Presentation Management
Keep the full control of your presentations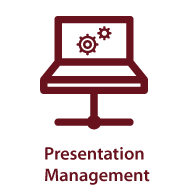 For a smooth process of your presentations
The Presentation Management system is a set of tools allowing us to control the presentation from delivery till the end of the lecture.
ORGANIZE PRESENTATIONS
Medium and large conferences often last several days and feature simultaneous "sub-events" or parallel sessions. Simul Europe Presentation Management System lets you organize presentations into sessions and set the time, date and location for these sessions.
SEAMLESS SWITCHES
The presentation player supports all common presentation formats and media. It will launch these files in full-screen without displaying the computer desktop or application specific loading screens enabling a smooth transition between speakers and files.
AUTOMATIC UPDATES
Presentation Management System comes with a presentation player that automatically synchronizes itself with the online conference schedule and its presentations. This eliminates last-minute delivery of presentations on USB-sticks, makes the job easier for the technician and improves overall quality.
Features at a glance
Online speaker portal to upload and modify the presentation up to one day before the lecture.
Fast tracking system of speakers inside the speakers' ready room that tracks the presentation, check it and send it to the correct hall on the network.
Big screens to show the status of presentation delivery of all next presentations.
Organisation system, because it enable us to know which presentations are delivered, which are missing, who is lecturing at the moment and who has finished.
Send alerts to the organizers or directly to the speakers, if a presentation is missing a short time before the session starts.
Quick editing: A platform inside the hall allowing in one click to open the presentation, the name and title of the current speaker on the monitor below and open the timer with the time given to him.
Generating of an unique QR code for the speaker in case a voting or a Q&A will be needed.
Reporting: the system send all relevant information to the information system .