E-Posters
For your visitors: A must have at every medical or business event to find out more information about the company, services, research results and much more.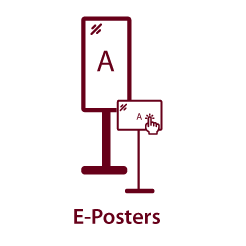 The revolutionised E-Poster
A must on each medical or corporate event to inform your visitor about your company and services. The best – they can decide by themselves, in what they are interested in.
SIMUL E-Posters system is an interactive display poster based on large screen and a tablet, designed for all users within medical or corporate event. Our system enables a variety of possibilities for the user and revolutionizes completely the whole concept of the posters presentation.
Features at a glance
Central view of all posters searchable over a touch tablet stand
Web based poster submission upload system
Delegates can send poster via mail, messages to the authors and vote for their selected posters
Delegates can send message to the authors
Delegates can vote for their selected posters
Web based online mode to present the posters on the website
Exhibition mode runs as automatic screen saver
Listen to the authors sound review while viewing the poster
Automatic download the poster via QR code
Your benefits of using E-Poster
Makes the life of your poster presenters easier.
And the experience of your attendees better.
Compatible with any screen, computer or device,
offering unparalleled flexibility for the on-site setup.
No effort or stress for your meeting management staff.
And a joy for the association.
No extra cost compared to the printed posters,
thanks to the built-in financial options.
Takes your poster program to a whole new level,
with advanced interaction and statistics.
Preserves the results and findings of your Congress,
turning it into a point of reference.
Some examples of using E-Posters Online System on events